Dry needling is a treatment using thin monofilament needles that penetrate the skin and treat underlying muscular trigger points for the management of neuromusculoskeletal pain and movement impairments.
Dry needling in Benson treats muscle tissue only, and its goal is to reduce pain, inactivate trigger points and restore function.
---
Dry Needling in Benson can help with the following:
Sports Injuries
Bursitis
Arthritis
Tendinitis
Migraine and tension-type headaches
Whiplash
Repetitive motion disorders (like carpal tunnel syndrome)
Phantom pain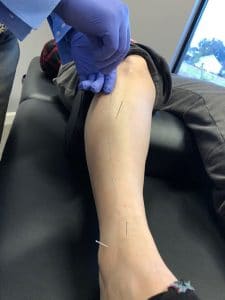 For more information call our team at Crossroads Wellness and Rehab in Benson at (919) 989-1888 today!
OFFICE HOURS
---
Monday
7:30am - 12:00pm
2:30pm - 6:00pm
---
Tuesday
2:30pm - 6:00pm
---
Wednesday
7:30am - 12:00pm
2:30pm - 6:00pm
---
Thursday
7:30am - 12:00pm
2:30pm - 6:00pm
---
Friday
7:30am - 11:00am
---
Saturday & Sunday
Closed
Crossroads Wellness and Rehab
58 Old Roberts Road #101
Benson, NC 27504
P: (919) 989-1888
F: (919) 989-1898